---
Disclosure :
This site contains affiliate links to products. We may receive a commission for purchases made through these links.
---
Magnolia soulangeana Plant – Alba Superba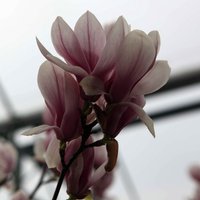 This beautifully fragrant Magnolia has large goblet shaped white flowers,flushed with purple-red notes blooming from dark green foliage. The 'Alba Superba' is perfect for creating elegant garden displays in spring. Especially suited to this, the Magnolia maintains its statuesque upright form as it matures. The graceful Magnolia 'Alba Superba' has remained exceptionally popular. Culinary uses: If separated whilst young, the flowers can be pickled and used as a great addition to salads. Height: 7m (22′). Spread: 5m (15′).