---
Disclosure :
This site contains affiliate links to products. We may receive a commission for purchases made through these links.
---
Flower Power Premium Plant Food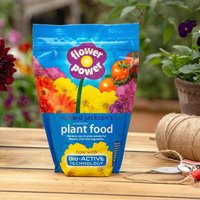 Flower Power Premium Plant Food part of the Richard Jackson Flower Power Range – The professional high potash formula to help you grow more flowers, fruits and vegetables. Flower Power is one of the best kept secrets in gardening. Those gardeners who know about it, love it, and they've made it one of the top selling plant foods in the UK. The 475g pack makes 427 litres (95 watering cans) of feed, while the 900g pack makes 810 litres (180 watering cans). N-P-K 12-12-36. Flower Power fed plants have won over 80 gold medals and first prizes at major flower shows, including RHS Chelsea, for plants including clematis, fuchsias, begonias, roses, aubergines, geraniums, sweet peas. Dahlias and potatoes.