---
Disclosure :
This site contains affiliate links to products. We may receive a commission for purchases made through these links.
---
Grafted Tomato Plants – Gardener's Favourite Collection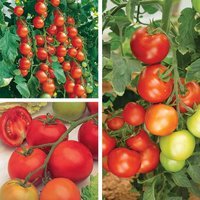 Gardener's Favourite Collection Some people think all tomatoes are the same but there are so many different varieties each differing in size, shapes, colours and taste. You can now have the most popular varieties in one place with the Gardener's Favourite Collection. Incredibly easy to grow, this Grafted Tomato Collection contains 6 plants – 2 of each variety of the following varieties: Gardener's Delight – 'Bite-sized' fruits packed with rich, sweet flavour. Heavy crops borne on long trusses. Which? Best Buy since 1984. Moneymaker – One of the most popular varieties in cultivation Heavy crop of medium-sized fruits. Greenback resistant. Nice, solid, multipurpose tomato. Shirley – Matures early, and crops heavily on short jointed plants. Nicely shaped fruits of fine quality. Resistant to T.M.V, leaf mould, greenback and Fusarium. Which? Best Buy. (Cordon variety – one stem grown by pinching off side-shoots as they appear, needs staking and tying in.) Please note: There is a possibility that your plant will include a grafting clip, if it does, this is an integral part of the grafting process and that it should be left in place. As the plant grows it will naturally shrug off the clip.