---
Disclosure :
This site contains affiliate links to products. We may receive a commission for purchases made through these links.
---
Soaker Hose / Soaker Hose Pegs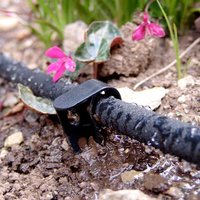 Soaker Hose – The 20 metre soaker hose offers a watering saving solution ideal for continuous watering of hedges, herbaceous borders or vegetable plots. Made from recycled rubber, it provides even soaking above or below ground and is designed to operate at low pressure – it can be run of a raised water butt. It uses up to 70% less water than a conventional sprinkler and comes complete with snap fit hose fittings. Soaker Hose Pegs – These soaker hose pegs are 12.5cm in length and are designed with a hook to securely fasten the soaker hose into the soil. Available as a pack of 10.