---
Disclosure :
This site contains affiliate links to products. We may receive a commission for purchases made through these links.
---
S-Chelate-O Cultiv-8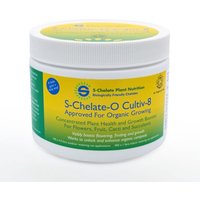 S-Chelate-O Cultiv-8 The 8 trace elements provided by S-Chelate Cultiv-8 promote photosynthesis and root development for results you can see week by week. This is a fully soluble powdered plant nutrient and a proven combination of chelated micronutrients. Maintains the availability of the minerals over a wide soil pH range and is non bio-accumulative. Biologically friendly S-Chelate technology. How to use: Outdoors: Add 5ml using a scoop to the watering can which will easily dissolve by pressure filling from tap or hose with 4.5 litres of water. Indoors: Add a quarter of a 5ml scoop to a small watering can and pressure-filled with 1 litre of water. When to use: Outdoors: Every 1-3 weeks during the growing season, which for most plants is March to September. Can be used every 3-6 weeks outside the growing season for perennials and woody plants. Indoors: Every 1-3 weeks as required to promote flowering, health and growth.