---
Disclosure :
This site contains affiliate links to products. We may receive a commission for purchases made through these links.
---
Plant Feed and Pest Control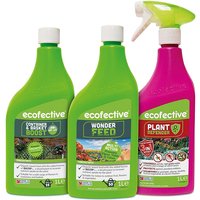 A choice of organic-based plant feed to enourage plant growth and nutrient uptake. Plus Plant Defender has the technology to control bugs. Available individually or buy all three and SAVE! Wonder Feed Concentrate – Natural and organic-based concentrated feed, with the added bonus of DELTA+. High-quality organic-based liquid feed. DELTA+ bio-stimulants encourage nutrient uptake and enhance plant development. Feeds all plant types to promote healthy and abundant growth. Makes up to 30 watering cans. Safe to use around children, pets and bees. 1 Litre. Container & Basket Boost – Organic-based feed with the added bonus of a biostimulant to increase nutrient uptake by the plant. Suitable for a wide range of flowers in containers and baskets. Makes up to 25 (4.5litre) watering cans. 1 Litre. Plant Defender – Ready to use 3-in-1 defender technology to control bugs, powdery mildew and provide roses with nutrition. Fast-acting control of aphids, blackfly, red spider mites plus others. Controls powdery mildew by washing away the spores. Provides nutrients for vibrant healthy roses. Pesticide free, uses physical mode of action to stop pests. Safe to use around children, pets and bees. 1 Litre.