---
Disclosure :
This site contains affiliate links to products. We may receive a commission for purchases made through these links.
---
Deluxe Tapered Round Vase Rib – Black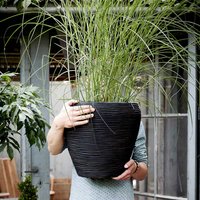 MIH Vase Tapered Round Row Stunning olive planter adding earthy colours and charm! Featuring realistic stone looks and an ingenious insulating layer for strength and plant protection from heat and frost, these premium quality pots also come with a 10 year guarantee! Lightweight, weather and fracture-resistant, they are made from recycled plastics and are 100% recyclable. Available in a number of styles and colours to create stunning displays year after year. 100% watertight for indoor use, drill a drainage hole for outdoor use. Planter with insulation layer Did you know that this planter protects the roots of the plant? The orange insulation layer ensures a constant temperature inside the planter and retains the water longer, so you don't need to water the plant as often. During hot summers, the insulating effect makes for a comfortable temperature in the planter, while in winter, it protects against the cold and even against frost. Your planter for indoor and outdoor use This planter can be used in the garden, on your terrace, or on your balcony, but just as easily indoors as an accessory or design object. Are you using the planter outside? Then make sure to drill a drainage hole the size of a two-pound coin in the bottom of the planter. In this way, any excess water can run out of the planter, leaving the roots of the plant nice and healthy.