---
Disclosure :
This site contains affiliate links to products. We may receive a commission for purchases made through these links.
---
Modern Corner Plant Stand 4 Shelf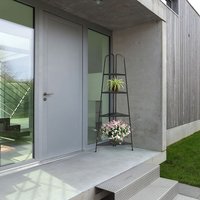 Modern Corner Plant Stand 4 Shelf A stylish showcase for your plant collection! The Modern Corner Plant Stand is a contemporary and elegant way to display your beloved plant collection or herb garden. Crafted with high quality steel, it has four shelves of four heights offering plenty of attractive spaces to place your plants and pots. With a durable structure, it is frost proof and UVA resistant, so suitable for indoor and outdoor use. It has been intricately designed to save space and fit into the corner of any outdoor space or indoor room. 65cm wide x 32cm deep x 170cm high. This is a versatile stand and can display more than just plants. If using indoors, it can be a modern storage unit holding books, photo frames and interior ornaments. However, it will remain a striking feature wherever it goes and sits well everywhere from a small patio, balcony or terrace, to the hallway, bedroom or bathroom. Create your own delightful display amongst the four sturdy shelves which blend effortlessly with any interior and exterior decor and provide an innovative attractive feature to every home or garden.