---
Disclosure :
This site contains affiliate links to products. We may receive a commission for purchases made through these links.
---
Syringa Bloomerang Dark Purple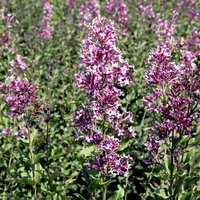 Syringa Bloomerang Dark Purple Produces rich purple flowers with delightful scents for months! Bloomerang® Dark Purple has a profusion of dark-purple, fragrant flowers and a long flowering period. This means you get to enjoy the best part of this hardy shrub for the longest! Most bushes bloom for just a few weeks in spring – but Bloomerang Dark Purple flowers from spring to summer, and again from late summer to the first frosts, taking just a short break during the hottest weeks of the summer. This shrub is well-branched and medium in size which reaches a height of around 150cm when fully grown. It stands out from other medium-sized Syringa meyerii varieties because of the deep-purple colour of the flowers. Butterflies and pollinators are fans of this shrub too, and its neat compact growth means it is a great option for many gardens including small space gardens. When the flowers are in full bloom, you can cut and place in a vase indoors, producing a stunning and fragrant display indoors as well as outdoors. Flowers May-September. Height and spread: 150cm (59").