---
Disclosure :
This site contains affiliate links to products. We may receive a commission for purchases made through these links.
---
Brushwood Thatch Screen Roll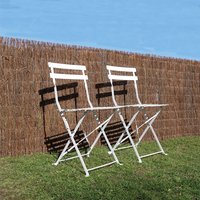 Brushwood Thatch Screen Roll Our Brushwood Thatch Screen Roll has been created with all-natural brushwood, commonly known as Thatch. It is ideal for use as fencing, roofing and privacy boundaries. This Brushwood Thatch Screen Roll is simple and easy to install – with one hassle-free unrolling motion you are ready to go! It is a modern interpretation of the traditional thatched roof, offering a long and rich history both in the UK and in tropical climates. Easy to cut to size, simple to attach and versatile in all areas – why not add an exotic feel to your outdoor space with this fabulous Brushwood Thatch Screen roll. PLEASE NOTE: This is a natural product and there will be variations from roll to roll. We cannot guarantee each roll is identical. Standard rolls are approximately 1cm thick – various sizes available.Thick rolls are approximately 2cm thick – various sizes available.