---
Disclosure :
This site contains affiliate links to products. We may receive a commission for purchases made through these links.
---
Grey Oyster Mushroom Book Spawn 50g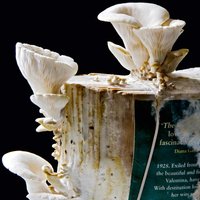 Grey Oyster Mushroom – Book Spawn Grow on a book! Oyster mushrooms are by far the easiest to grow of all the edible fungi. These exotic mushrooms, with their delicate coral-like frills, are as delicious as they are beautiful, and they really do require minimal attention, making them the perfect rookie's introduction to "Fungiculture". They have a delicate, almost dairy-like flavour and work wonderfully in risottos, soups and creamy pasta sauces. Try dusting them in seasoned flour and frying in searing hot oil where they will crisp up and turn golden. A perfect accompaniment to a posh fry-up or scattered over an autumnal salad.How to grow your Oyster Mushrooms As a real novelty, why not try growing them on an old paperback book or telephone directory! Put your book in a plastic bag, cover with boiling water, leave to cool and then add the mushroom spawn – the mushroom mycelium breaks down the woody paper in the book and uses the energy to produce mushrooms! 50g of spawn is sufficient for one large book (eg. telephone directory). Latin name: Pleurotus ostreatus.