---
Disclosure :
This site contains affiliate links to products. We may receive a commission for purchases made through these links.
---
Hotbin Mk.2 Composter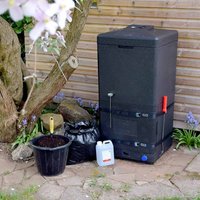 HOTBIN compost bin capable of producing compost in just 30-90 days has now launched the new HOTBIN Mk.2, the second generation HOTBIN compost bin. HOTBIN compost bin reduces the amount of waste sent to landfill by composting a wider variety of waste, all without the traditional composting problems of odours, flies, turning and tumbling.Utilising hot composting methods HOTBIN is an aerobic compost bin that produces compost up to 32 times faster than traditional cold composting methods. With unique insulation properties, HOTBIN reaches temperatures of 40-60°C, composting a wider variety of waste that would ordinarily be possible with a wormery or cold composting. Fruit, vegetable peelings, grass cuttings, leaves, cooked food, meat and even bones can all go in whilst the high temperatures in the HOTBIN kill off weed seeds, pathogens and fly larvae. In addition to the HOTBIN being a sealed unit, odours commonly associated with composting are controlled with a built-in bio-filter in the HOTBIN lid reducing odours associated with the attraction of flies and vermin. 115cm high x 55cm x 55cm. Delivery not available Offshore, Islands and Highlands. Please refer to delivery information.