---
Disclosure :
This site contains affiliate links to products. We may receive a commission for purchases made through these links.
---
Petunia Surfinia Large Flowered Plants – Mixed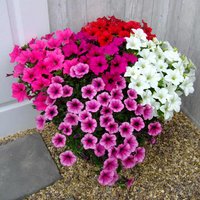 Surfinia Petunias – Mixed A must for every garden! Surfinias will rapidly grow to create a torrential cascade of vibrant summer colour that lasts and lasts, and because the plants are exceptionally weather resistant they will brighten up the cloudiest of British summers! They also make a superb ground cover. A collection of 5 shades as pictured, we couldn't recommend them more highly! Trails up to 90cm (3′). RHS Award of Garden Merit winner – recently received. Flowers June-early October. Height 80-90cm (31-35"). Petunia Surfinia Mix includes: Trailing Surfinia Hot Pink: Trailing Surfinia 'Hot Pink' is world-renowned for its flower power, weather resistance, colour range and versatility. Ideal for creating a cascade of colour from hanging baskets, and containers, or let it tumble over walls in a wave of trumpet-shaped blooms. Deep Red: Cascades of deep scarlet red that will brighten up any hanging basket. Surfinia Snow: Pure white blooms all summer long. Surfinia Purple: Rich purple with green foliage. Surfinia Pink Vein: Surfinia petunia Pink Vein has blush pink flowers with highlighted veins. Stunning in hanging baskets or containers or let them tumble over a wall.