---
Disclosure :
This site contains affiliate links to products. We may receive a commission for purchases made through these links.
---
Tulip 'Flaming Parrot'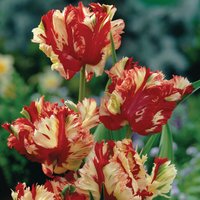 A very popular parrot tulip producing flamboyant yellow blooms with scarlet red flames, which gradually open out to form a big bowl-shaped bloom, revealing the purple-black anthers within. Each petal has a fringed edge, giving a ruffled effect which adds to the flame-like appearance! Perfect for hot-themed beds, borders and containers, grow Tulip 'Flaming Parrot' in groups for the best effect. Tulip flowers are excellent for cutting and last for up to 10 days in a vase. Bulb size 11/12. Height: 55cm (22). Spread 20cm (8).Useful links:Culinary note: Some parts of these flowers are edible. However,some people have had strong allergic reactions to Tulip flowers. If touching them causes a rash, numbness etc. then Tulip flowers should not be eaten. For more details about edible flowers click here.