---
Disclosure :
This site contains affiliate links to products. We may receive a commission for purchases made through these links.
---
Prunus incisa Kojo-No-Mai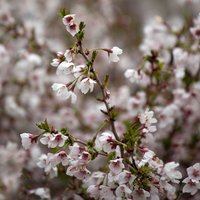 This popular Fuji Cherry bursts into life in early spring when much of the garden is still dormant, with a flamboyant show of delicate white blossoms tinted with pink. The pretty blooms are highly attractive to bees and an important source of early nectar. Unlike the more familiar cherry trees Cherry Kojo-no-mai forms a neat, compact shrub which is ideal for small or low-maintenance gardens. Come autumn, the leaves of this RHS AGM variety turn to fiery shades of orange and red giving a long season of interest.