---
Disclosure :
This site contains affiliate links to products. We may receive a commission for purchases made through these links.
---
Wallflower Collection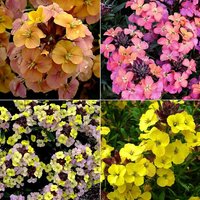 Keep it traditional with this reliable Wallflower Collection. We?ve brought together 4 superb varieties of Erysimum that will brighten up your garden from spring into summer. The blooms change colour as they age, creating a rich tapestry of fragrant flowers. Wallflowers are ideal for filling beds en masse or dotting through the front of borders, providing a valuable source of nectar for pollinating insects. Perfect for wildlife areas, cottage gardens, rockeries and mixed planting schemes. Height: 45cm (18). Spread: 30cm (12).Collection comprises:Erysimum ?Gogh?s Gold? – Canary yellow maturing to peachy pink.Erysimum ?Monet?s Moment? – Orange-red aging to mauve pink.Erysimum ?Desert Island? – Citrus lemon blooms.Erysimum ?Early Sunrise? – Sunshine yellow flowers maturing to deep pink.