---
Disclosure :
This site contains affiliate links to products. We may receive a commission for purchases made through these links.
---
Botanical Infusions Plants – Collection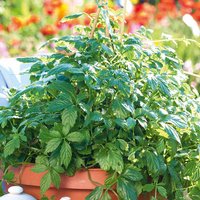 Botanical Infusions Plants – Collection From the furthest corners of Earth we bring you the most amazing and exotic collection of herbs! All with their own properties beneficial to your health. From The middle East to deep in the heart of South America, these herb plants are true botanical marvels. They can be enjoyed in infused teas, baking, or in the case of Aztec Sweet Herb in fruit salads! If you're looking to explore the magnificent flavours of this wonderful world or trying to boost your metabolism and immune system, these plants are perfect for you! Fighting anything from chesty coughs to helping you to live longer, they've got it all! Botanical Infusions Collection contains 3 each of the varieties: Tea of Life, Mint Marokko, Lemon Verbena Freshman & Aztec Sweet Herb Colada.