---
Disclosure :
This site contains affiliate links to products. We may receive a commission for purchases made through these links.
---
Chilean Guava Plant – 'KA-POW'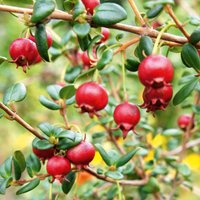 Chilean Guava Plant – 'KA-POW' A royal favourite this Chilean Guava plant will be the talking point of any garden! The Chilean Guava Plant – 'KA-POW', is the unique fruit that looks like a blueberry but, taste likes a delicious wild strawberry. Rumour has it that this tasty little berry was Queen Victoria's favourite fruit! Its no surprise, that it is also a firm favourite amongst the Suttons family because they are deliciously sweet and we can see why HRH was so fond of them. This new variety 'KA-POW' is British bred and named by James Wong himself. Use the 'KA-POW' to grow your own edible hedge, its fruits have a pear-like texture and a deliciously sweet flavour. Great for wildlife and a unique addition to your outside space. In late spring the hedge will blossom with small bell-shaped, lightly scented pale pink flowers. This evergreen shrub has lovely dark green leaves, making it a spectacle to admire! Supplied in a 9 cm pot, your Chilian Guava will harvest from August through to September. They are delicious eaten fresh on their own or when made into jam or even, gorgeous sweet Guava gin!