---
Disclosure :
This site contains affiliate links to products. We may receive a commission for purchases made through these links.
---
Verbena Union Jack Mixed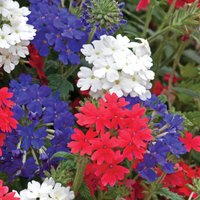 Verbena Union Jack blooms from June until October, it creates white, blue and red flowers in celebration of the Queens Birthday! Verbena patagonica is perfect for adding a patriotic theme to your outdoor space and makes the most beautiful bouquet to also include indoors. Glandularia is easy to care for and enjoys growing in direct sunlight, it produces trailing stems that look superb when cascading from a hanging basket against its fresh green foliage. With irresistible nectar-rich blooms, Verbena Union Jack is much-loved by pollinating insects and sits well in a wildlife garden. Buy yours online today before they are all gone!