---
Disclosure :
This site contains affiliate links to products. We may receive a commission for purchases made through these links.
---
Must Have Collection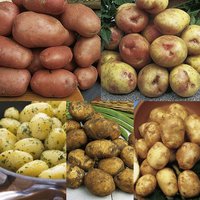 First Early, Second Early & Maincrop Potato Must Have Collection is the ultimate spud-lovers selection. Providing you with potatoes from early summer onwards it includes the best loved varieties, catering for every potato taste from spring salad spuds to Christmas roast tatties. Enjoy! Height and spread: 60cm (24). Potato Must Have Collection comprises: Desiree (Maincrop) – The world's most popular red skinned potato. King Edward (Maincrop) – An absolute classic, perfect for fluffy mash and crispy roasts. Charlotte– A latish first early, producing good crops of medium sized oval tubers that are waxy when young and perfect hot or cold. Maris Peer (Second Early) – Superb flavour and won't disintegrate on cooking. Pentland Javelin (First Early) – Lovely soft waxy-textured new potato with white skins and flesh.